5th generation Solar Pump Inverter 5HP/4KW 3Phase 380Vac, or called solar VFD MPPT pumping inverter, solar driver, which is input solar panels to run AC pumps directly under sunshine. Within VFD and MPPT technologies, and flexible settings design, the inverters are ideal choose for any single phase or 3 Phase AC pumps! Cost-effective for deep well pumping, farm irrigation, water supply run by solar power directly! Now GPRS online monitoring and AC & DC inputs running together synchronously are available! You also can choose our extra IP54 weather-proof case(extra price) for the inverter with anti-dust screen, PG4 Connectors, DC breaker, AC breaker, terminal bars etc!

CVT & Real MPPT: widely adjustable settable MPPT voltage and MPPT stride, to make best pumping for specific solar panels configuration and sunshine condition!

Auto or Manual: Defaulted automatically running or stop according to solar power, or start&stop it by manual or extra switch/water level sensor.
Full Protection: Overloading, over-voltage, low voltage, over current, short-circuit, over heat, grounding, phase-lose, dry-protection,motor locked, weak sunlight, water level sensor compatible.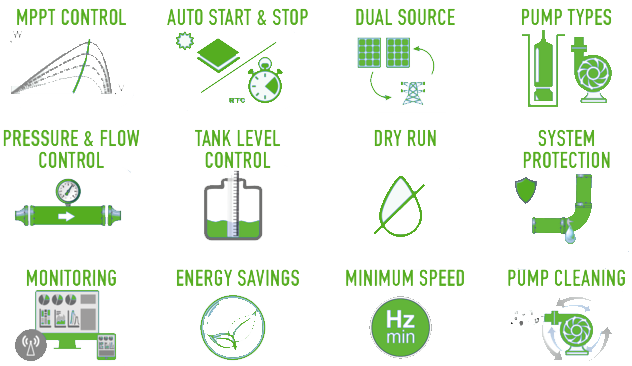 Input
Max. DC Input Voltage
790Vdc
MPPT Voltage
450-760Vdc
Input Connection
Screw Bar
AC input
3phase 350-400Vac
Output
Output Frequency
0.5-60Hz
Output Power
5HP/3.7KW-4KW
Output Voltage
330-460Vac
Output Phase
3phase
Output Current
9A
Efficiency
inverter Efficiency
97.5%
MPPT Efficiency
99.9%
Protection
Ingress Protection
IP20/Heat-sink & Fans
Mechanical Data
Net/Gross Weight
3kg/3.5kg
Dimension
19*12*16cm
Environment
Humidity
0~95% RH (Non-condensing)
Operating Temperature
-20°C ~ 55°C
Solar Pump inverter solar drive 5HP
Brands CoHeart
Product Code: CHPI3-4R0
Availability: In Stock
Related Products
Tags: solar pump inverter, solar VFD